At the 1998 Christina Crawford and Lypsinka show at NYC's Town Hall, critic Rex Reed told a story about Joan attending a party for Tallulah and briefly upstaging her, making a begowned grand entrance dusted in gold glitter. Tallulah stormed off, but later re-emerged on her balcony, stark naked with gold glitter in her pubic hair, announcing "Guess who just went down on me?"

from: http://www.joancrawfordbest.com/b.htm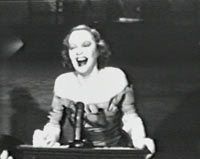 Tallulah gets the last laugh!